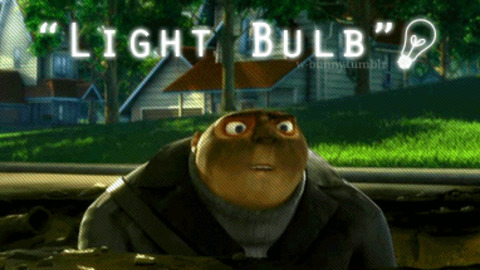 Don't you love it when something finally clicks?
I struggle writing book openings. Most of my novels don't get "good" until around chapter 6–and that's a hard sell when you want an agent to read it! However, the more I tinker with the beginning, the more I hate it and it turns into a vicious spiral leading to me wanting to abandon the book. Not a good place to be. So I re-submitted the opening to my critique group.
My group had already read the whole thing, which turned out to be extremely helpful. These people had read both books one and two in the trilogy. Now that we revisited the beginning, they could get into how well/poorly I introduced the characters, and pinpoint why it the beginning dragged on. Basically, I wasn't foreshadowing enough from the get go. We got into a big discussion about where to hint at information and where I over-explained, leaving no mystery for the reader.
I had my lightbulb, ah-ha, whatever-you-wanna-call-it moment during this discussion. There's a conversation between the MC and her father about why he doesn't want her to learn how to ride dragons. His reactions to her frustration and determination were bland and vague. One of my critique partners suggested he hint that if she doesn't make it as a dragon rider, she will never come back home. This is revealed MUCH later in the books, but bringing it up here I think was a great idea. It hints at the danger of the school while still leaving room for the big WHY when the MC discovers it for herself. I got so excited I actually wanted to start working on this novel again!
It's easy to get discouraged as a writer looking at your own work. You love it, you hate it, you kinda like it, you love it, then you hate it again. It's a crippling cycle. I cannot stress how important it is to find people to help you critique your work. I am very fortunate to have found my group on Meetups.com. Talking it through in person (for me) helps get the juices flowing. There are online resources for critiques too if there are no in-person groups in your area.
Finding the right group is a process. You want to find people who are honest, yet not always negative. It helps to have people who can speak candidly, even if it's hard to hear sometimes, but you don't need to take every piece of advice. What I find most helpful is when more than one person mentions the same thing–that's a sign something needs to be changed. Critique groups and partners also help with those "lightbulb" moments because they see things we cannot see for ourselves. If you're feeling frustrated and discouraged, I hope you reach out and find people to help read your work. Critiquing other people also helps you learn how to edit and can even give you ideas for your own work.
Places I found critique groups/partners:
SCBWI.org: Society for Children's Book Writers & Illustrators. For picture books through YA only.
Meetups.com: Great for a little bit of everything. Try out one or two in your area, and the people there may know of other groups as well.
Friends and Family: Yes, they will be BIASED, but they can be very helpful beta readers for general places in your book that work/don't work.
You can always do a Google search too to find more specific groups for your genre. Remember: you don't have to pay to get a good critique. What's most important is to do your research about the group first to ensure they are in the same boat as you. Hiring a professional editor is another ball game. Swap with other writers first before looking for professional help.
If you have a critique group you trust, please share where you found it!